Consult with us as to how best this expertise can be applied to render a site optimal, based upon...

Inspired Quality content - with text, visuals, Styles
Good development with added features well organised and configured
Natural and optimized referencing (SEO)
Ethical SEO - White Hat referencing
Quality back-link building
Why have a Website?
Considering that over 82.6% of the population, in France alone, is connected to the internet. They are spending more than 4 hours per day, surfing the net.
At present there are more than a billion and a half Websites active in September 2018.
When weighing the pros and cons of communicating through web design there are multitudes of considerations to be taken into account.
The importance of such a decision becomes more focused by considering the ease by which targeted communication with a desired audience can be attained and maintained.
All this is available 24/24 for meeting the needs of a modern moving society.
...Whether a small business, an association (under the law of 1901) or an individual, we can all find an important reason for doing this.
...To share a passion, a knowledge, a skill or a professional trade, to best find a niche market, new customers or to stay in touch with the existing client base.
Just to propose a few of the legion of possibilities. It cannot be overstated, nowadays, that the website has become a primordial support for any communication and marketing projects...
... as witnessed by the enormous growth in customer online shopping requests accompanied by the explosion of e-commerce sites.

increasing use of online information
We are witnessing, during recent times, a withering of the classic media, such as newspapers and magazines.
This recent evolution greatly accentuates the growing importance of websites...
It is interesting that the most popular web content management program should be called "Wordpress" and the second most popular is called "Joomla"
Starting out life as a blog publisher, which allowed anybody to publish a page on the internet
the word "blog" being a contraction of "weB Log" which suggests a discussion website with time-stamped dated entries
This has now evolved into flexible open source systems with endless possibilities through the numerous plugin contributions to its core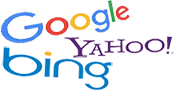 The importance of natural site referencing
Based on the right selection of keywords together with a well constructed and illustrated content, that corresponds best to the strict algorithms used by the principal search engines, such as Google.
Therefore your site can simply be found by internet users because it is high up on the search results page called ranking.
OFF PAGE optimisation with back-links. These are simply links placed on other pertinent web sites that point, when clicked upon, to the web site being optimised.
These back-links can be in the form of social media websites, such as Facebook, or authoritative websites such as Wikipedia.
Otherwise put, those that agree to mutually link, by relevance, to the subject matter
therefore reinforcing the adage "content is king".
Google has announced several changes:

They will be taking into account the time taken for a page to load in the navigator when applying the site ranking in the search results returned
The overall user experience on a web site page in terms of ease of use in finding the required information will also affect the ranking of a site
They are changing web based searches in the future and are shifting from answers to "journeys". That is to say to invite the searcher to arrive at the sought after answer via a "journey" of discovery
Increasingly, the search engine will know where you are in your journey quest, it'll remember what you did and where you most likely want to go.
They want you to discover and consume more content: therefore providing more content (ads), throughout this journey, instead of just pointing to pages that conform to keywords and pertinence.

01
10

So the context of a search will be taken into account, not necessarily a keyword; maybe you don't know the technical name for a new phenomenon that you're curious about. The search engine will provide that journey piloted by artificial intelligence